Now is the perfect time to experience all the local flavor that Paducah, Kentucky has to offer! Whether you're a casual traveler or a foodie, you'll find plenty to please your palate in Paducah.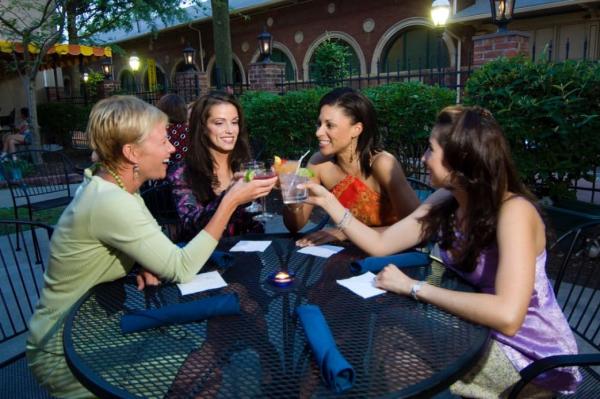 When you dine in Paducah or drop into a tap room for a tasty drink, you'll discover that the town's innovation and artistry extend to its restaurants, breweries, and other eateries. Throughout the city, you'll not only find a diverse collection of barbecue joints, but also contemporary cafes, serving handcrafted cocktails. From Historic Downtown to Midtown and beyond, you'll encounter craft breweries, fine Italian cuisine, and inventive creations like the rolled ice cream at Craving the Curls.
CLASSICS
No small town can claim to be part of "the South" without a solid barbecue tradition. In Paducah, there are several local barbecue joints, and each offers the classics with a special touch, like pulled pork on toast at Harned's Drive-In and the hash brown casserole at Backwoods BBQ. When you're in town, try the pit-style pork at Starnes Barbeque, which often tops the lists of "best BBQ in Kentucky." In addition to its barbecue, Starnes is known for its vinegar-based sauce, which has a little kick thanks to a touch of black pepper, cayenne, and other spices.
Barbecue is so beloved in Paducah that for three days in September the aroma of smoking meat fills the air as dozens of teams cook up more than 80,000 pounds of chicken and pork at the annual Barbecue on the River Tournament & Pig Out. Every team sponsors a favorite charity, and the event involves copious amount of eating for serious foodies. Don't miss it!
While barbecue is a big deal in Paducah, catfish is also popular, especially at the family-owned Strickland's Seafood Restaurant. As you're waiting for your catfish to arrive at the table, try the fried alligator appetizer.
For an iconic Paducah culinary experience head to one of many locally-owned restaurants in Historic Downtown that have been popular for ages. For five generations Kirchhoff's Bakery & Deli has been delighting its loyal customers with classic bread recipes and modern innovations such as cranberry walnut and sun-dried tomato and basil breads. Walk the opposite side of Market House Square and you'll reach Tribeca Mexican Cuisine, JP's Bar & Grill and Cynthia's California Tuscan Ristorante, which not only serves tasty Italian cuisine but also crafts its own pastas and breads.
To enjoy a sweet treat and a bit of Paducah history, head to Red's Donut Shopor Munal's Donut Shop. Both locally-owned shops serve up delectable donut selections.
NEW ON THE SCENE
While Paducah has food traditions that span generations, the artistic vibe that permeates town culture has inspired a fresh, innovative culinary scene. This is especially evident at the freight house farm-to-table restaurant and the historic Coke Plant, which has been transformed as a hub for food, the arts and entrepreneurship.
The freight house proudly honors area farmers and producers by sourcing the bulk of its ingredients within a day's drive of the restaurant. Plus, it rotates the menu based on what's in season. While it's hard to pin down what's being served at any given time, there are a couple of Kentucky classics you should try to order, such as the spicy beer cheese and the Kentucky silver carp.
Built in 1939, Paducah's Coca-Cola plant was once a showcase facility for the company, but it eventually closed, and the historic building sat vacant for about seven years. New owners restored this essential element of the town's past and breathed new life into it by turning it into a vibrant community hub. In addition to a Mellow Mushroom pizza restaurant, The Coke Plant now houses a variety of other commercial and artistic ventures, including a yoga studio, string music studio, makerspace, Pipers Tea & Coffee and Dry Ground Brewing Company.
LIBATIONS
As the first craft brewery in Paducah, Dry Ground Brewing Company has been a lynchpin in the town's culinary scene. Priding themselves on their superb craftsmanship, the Dry Ground brewers offer 10 in-house brews and 25 other craft favorites on tap. Another great spot to try local craft brew is Paducah Beer Werks, which produces crowd-pleasing small batches such as Vanilla Bean Porter, a cherry chocolate stout, Irvin Cobb's Rooster Rye, and Blueberry Ale. Stop in an enjoy a flight and a delectable casual meal in the dining room, a local favorite.
All types of artisanal drinks have joined Paducah's creative scene, including legal moonshines and, of course, bourbon. If you're an aficionado of American whisky, the Silent Brigade Distillery should be on your itinerary. Silent Brigade hand-crafts bourbon the old fashioned way in specially designed copper pot stills and offers an innovative line of spirits, including the tantalizingly named Apple Pie and Peach and Apple Moonshine.
Honoring the long tradition of Kentucky moonshine makers, The Moonshine Company contributes to the local craft beverage scene. In addition to a fine selection of more traditional moonshine flavors, Paducah Distilled Spirits also offers some charming options, such as Loaded Lemonade, the buttery pecan flavor of Blind Squirrel, and the Quilter's Special, which is made with real yellow and white peaches.
Paducah's award-winning Purple Toad Winery is the largest and most medaled of Kentucky's wineries. Purple Toad has a reputation of pleasing all types of folks, including people who don't normally drink wine. Innovative and fruitful flavors include Chocolate Strawberry, Cranberry, Lauren's Blackberry, and Paducah Peach.
This content is courtesy of the Paducah Convention and Visitors Bureau.  CLICK HERE to view the original article.